With the challenges presented to architecture students this year, resilience has been a key focus both personally and in their discipline. Design solutions to social problems cropped up frequently in the 96 entries we received this year. Of the five winners, the holistic awareness of context shone through in their work. Reflecting on architecture in 2020, the Student Award winners look forward to building back better.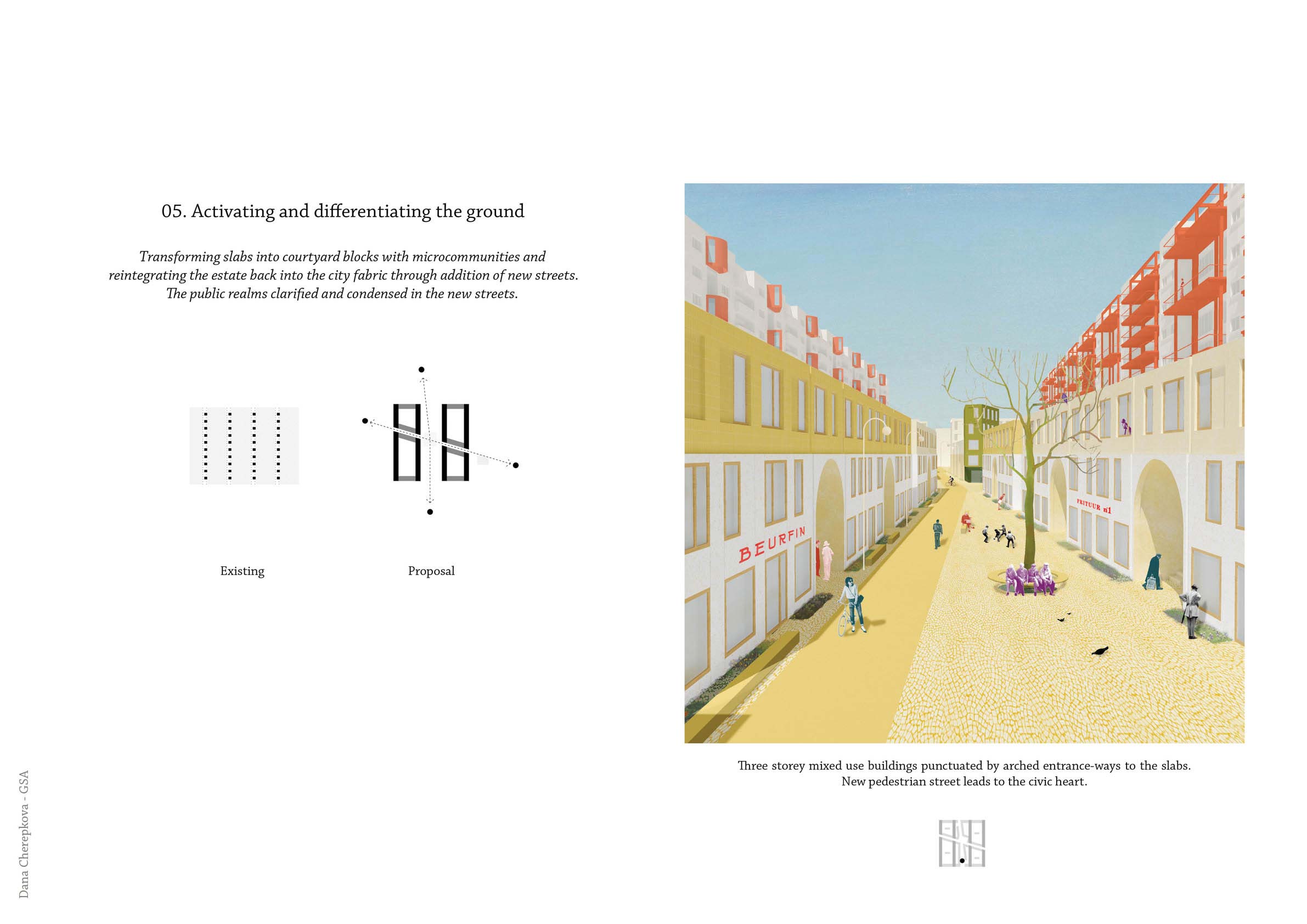 Dana Cherepkova - winner of Architecture and Design Scotland's Urban Design award
Dana Cherepkova completed her Diploma in Architecture at Glasgow School of Art having graduated at the University of Edinburgh. She co-founded Un/Common which discussed Glasgow's Urban Renewal at Arch Fringe 2019. Her work was also commended for the A&DS Sustainable Design Award.
Tell us about your project?
In many cities, modernist social housing estates are deteriorating and struggling to improve their reputation. Demolition and relocation of residents has been a common redevelopment strategy. However, this is no longer economically, environmentally and socially sustainable in many cases.
The project's four slab blocks in Luchtbal, Antwerp, are retained, allowing the residents to occupy their flats during construction and local identity to be maintained.
Surveys suggest a need for greater social cohesion between the ethnically diverse and economically deprived residents. 'Missing' elements were added to the estate, creating opportunities for residents to form stronger social connections. 'In between' spaces were added to soften the transition from the private flat and an overwhelming outdoor public space. Shared facilities in the newly formed communal courtyards create opportunities for meeting neighbours and building trust.
How has studying architecture under lockdown felt?
Isolating and frustrating. I came to realise how important the studio culture and peers support is when you study architecture. This experience pushed us to find new ways to stay connected and continue to support each other.
Over the lockdown, I formed a student-led open digital platform, Studio Culture, which supported students through months of lockdown and was a place to share work, ideas and resources. This led to a collaborative research project with Reset Architecture collective to gather ideas from students on how to keep the studio culture vibrant, inclusive, and accessible when adapting the studio-based education to covid-19 regulations.
We carried out the Alt. Studio project – a short ideas competition and a workshop between MSA students and staff. We received a great number of responses and some ideas are being developed further.
What is it like studying architecture in Scotland?
I enjoy it. While studying at GSA we were encouraged to observe what is around us and learn from the places around us. Glasgow is a fascinating city to study architecture in. Walking around the city you can learn almost as much from the 'unsuccessful' interventions as the successful. It is interesting to see how people adapt to them and unexpected positive outcomes that arise.
What are your plans for the future?
I'm am working part-time at O'DonnellBrown architects in Glasgow whilst continuing my masters at GSA. I am researching the area of Govanhill in Glasgow and how the degradation of urban fabric affects a sense of community in an ethnically diverse neighbourhood.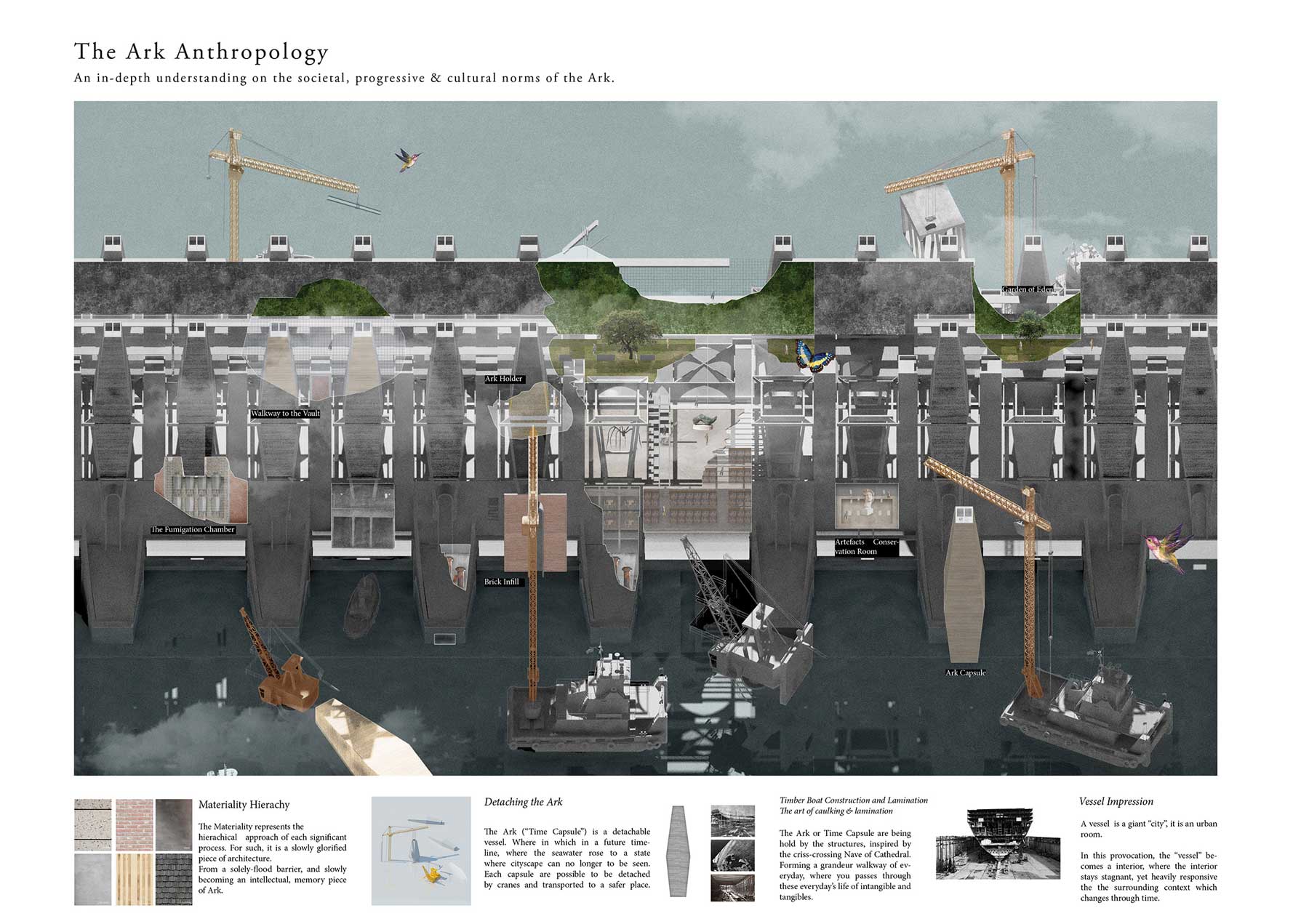 Andrew Law Zi Hang - Winner of the RIAS Andy MacMillan Drawing Award
Ark of Antwerp won the drawing award but was also shortlisted for the RIAS Rowand Anderson Silver Medal. Andrew is continuing study at Glasgow School of Art with a course in conservation while building his portfolio.
Tell us about your project?
The Ark of Antwerp addresses rising sea levels in the context of Antwerp, Belgium. As architectural intervention, the piece changes and responds to shifting contexts as global catastrophe looms. The structure begins as a sole-flood barrier, then to a series of archiving rooms and eventually an Ark that preserves the key artefacts of the city. The piece grows into an Ark Capsule; a fragile, delicate piece of memory preserver that sits on top of the Ark.
Eventually, as the apocalypse arrived, the Ark was destroyed whereas these capsules will float away, to the rest of the world, as an uncertainty and a message of the consequence.
How do you feel about winning the award?
Very honored! as this is one of the most prestigious architectural awards in Scotland, and perhaps in the UK too. It is great to be recognized and rewarded for the effort that I have put into this project, reaching another milestone for my architecture career.
Talking about impact, it has definitely boosted my confidence significantly in carrying on with bold proposals, intervention and designs, continuing to strive with my very own architectural approach.
What is it like studying architecture in Scotland
Studying in Scotland has been great (although Glasgow has been gloomy and raining most of the time!) especially for me who came from a tropical country. There's a lot to explore in Scotland, the access to fresh seafood, local culture and getaways from the work.
Studying in the Macintosh School of Architecture is a fruitful one, in which I was exposed to different ways of teaching, different architectural insights, approach and agenda. I appreciate and thankful for all the people that I have met in the Mac, a place where I thoroughly enjoyed studying in.
What advice would you give to anyone thinking of studying architecture?
I would suggest to get bold with what you are into during the study, be ambitious, as school is where you unleash most of your imagination before getting to the "real world". Due to current situation of the COVID-19, I thought that instead of rushing for jobs, I have decided to expose myself to more architectural competitions, in a way to expand the range of architectural works in my personal portfolios to a significant level that is able to help me apply to offices of my personal preferences.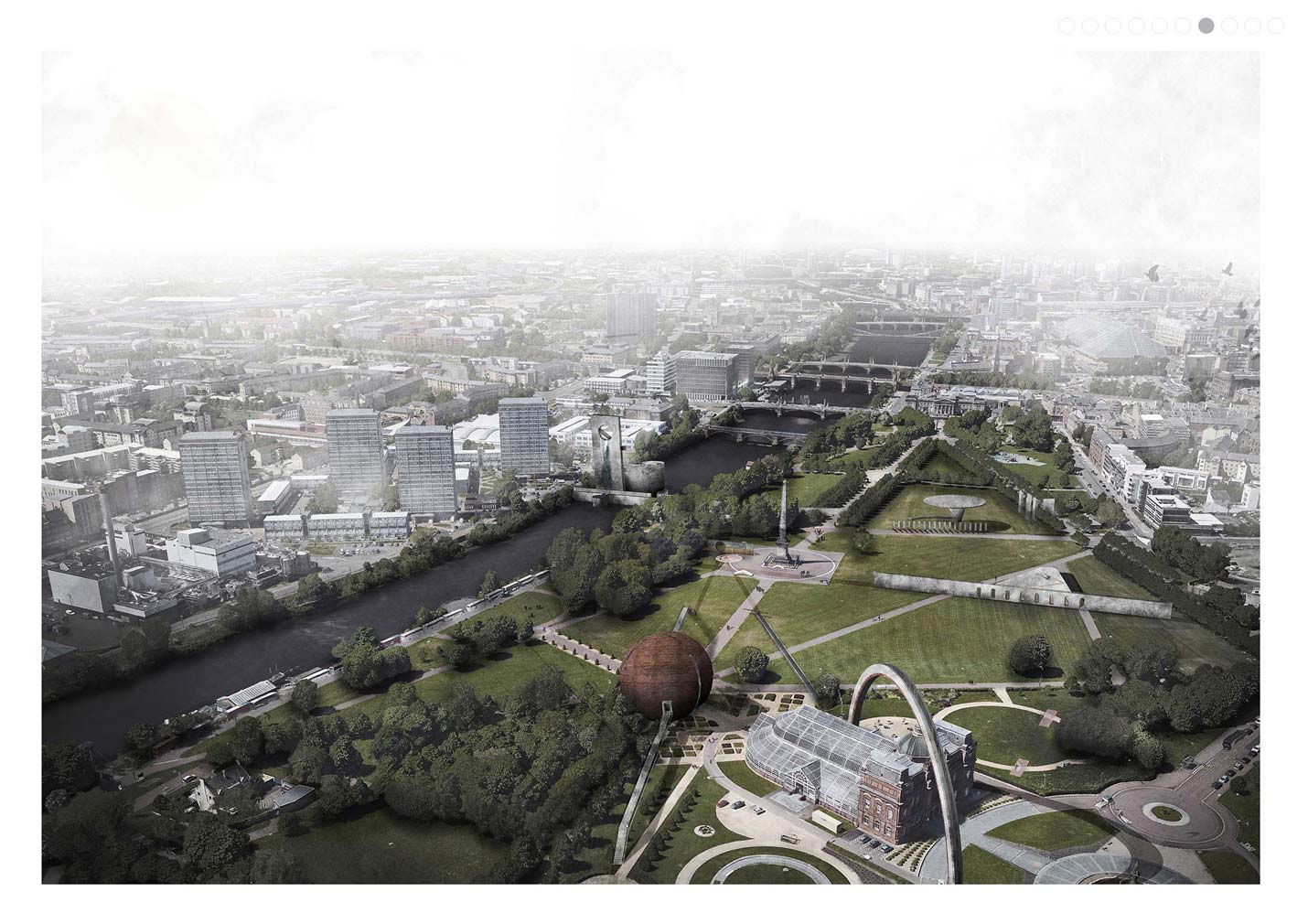 Mohannad Khalaf – RIAS Rowand Anderson Silver Medal for Best Scottish Student
Working at McGinlay Bell during his final year, "SELF & OTHERS" was awarded the prestigious Silver Medal for its 'strong societal agenda' and 'understanding of the spaces around and in-betwen the architecture' according to the award judges. Mohannad is currently working on a series's of freelance projects, while keeping an eye out for future opportunities.
Tell us about your project?
"SELF & OTHERS" looks at form and its relationship to the user. The project uses places which instill a sense of identity to some residents to look at the underlying emotional tensions in the city of Glasgow; sectarianism, classism, fear of the other and conflicting identity are issues that cause mental problems and further divisions within people.
From these points, I connected 'non-observable tension-lines', using a series of connecting form to move them into physical reality. "The Clyde's Eye" connects Glasgow Green with Hutchesontown. In essence, this project aims at promoting social sustainability through critical architecture; one that is formed out of a problem yet is set out to deliver a solution.
How do you feel about winning the award?
I feel very grateful and certainly happy to see my work recognised through both its brief and execution.
At Strathclyde University, I was lucky to be given the chance to form my own brief, a notion that led me to challenge the norm and be ambitious in my thought process and outcome.
There were many moments throughout the project development where I had to proceed cautiously due to the sensitivity of my project. I was unsure in how the project will be accepted as I can be seen as an outsider to the city who does not have the right to discuss these issues. Nevertheless, winning the award made me more confident in focusing on the wellbeing of the people despite how difficult that path may seem or how challenging it may be.
What piece of advice would you give to anyone considering studying architecture?
Use your studying years in experimenting and enjoying creating architecture. I use the word creating because I would encourage self-creating rather than relying too much on architectural precedents.
Precedents are a good inspiration and a great way to understand how certain architects have architecturally responded to a specific brief through specific place and time. Therefore, I would recommend learning from precedents to reach a point where you can establish your own design process and outcome.
Watch the 2020 Andy MacMillan Memorial lecture by Jude Barber