We spoke to Professor June Andrews of The Dementia Services Development Centre to find out more about dementia-friendly design and how we can all come together to design for better quality places.
An aging population and the social and economic effects of dementia are key challenges for the NHS and therefore areas of concentration by the Minister. Dementia friendly design is essential for all new health and social care buildings particularly primary care premises and those used mainly by older people. It is emphasised as part of Design Quality in the Policy on Design Quality for NHSScotland (p20) and should be considered as part of compliance with the Disability Discrimination Act and Disability Equality Duty.
Why is dementia-friendly design important?
Dementia affects over 700,000 people in the UK and costs us more than cancer, heart disease and stroke put together, around £11 Billion in 2010, and much of that spend is futile, or caused by avoidable incidents. The majority of people with dementia live in the community and access everyday services in buildings not specifically intended for them. With increasing pressure to keep people living at home, dementia friendly design in non-dementia specific buildings is an increasingly important consideration for all public buildings.
The Dementia Services Development Centre at the University of Stirling is dedicated to helping health boards and healthcare providers to produce dementia friendly buildings and has an international reputation in this area. In addition to providing extensive guidance via their website, they have provided training for key representatives from each NHSScotland health board so that boards have expertise in house. They also operate an accreditation scheme for dementia friendly design in new projects.
A journey to dementia-friendly design
Healthcare buildings will be used by an increasing number of people with dementia, and it is critical that this is considered when they are designed and equipped. Research has shown that the cognitive impairment which affects people with dementia can be aggravated by building design, causing problems that could be rectified easily or avoided at very low cost.
It is easy to find out how to make a dementia friendly building. Older buildings can undergo a "makeover", or it can be designed in from the start. There are examples of fantastic buildings around the world, and even in Scotland there are places which demonstrate one or more of the dementia-friendly features that are essential to minimise adverse incidents such as falls, unwanted exiting, incontinence, disturbing behaviour and anxiety.
The science is not complete, but there is over twenty years of research to start off with, and lots of ways to keep in touch with developments as they arise. The one off design decision can reduce the burden of care for staff, and thus reduce the cost of the services provided in any building over a long period of time.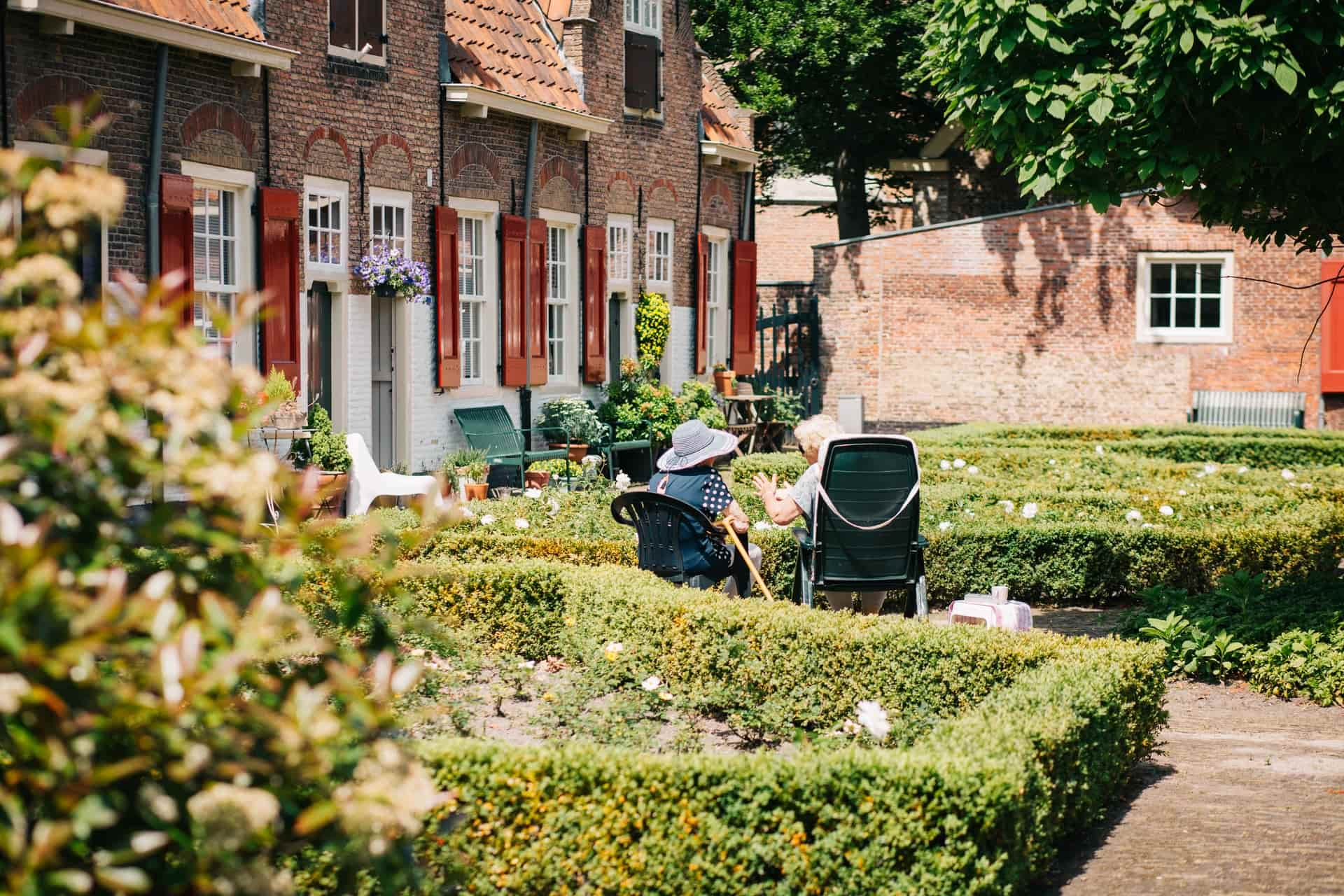 The challenges that affect people with dementia
There are a variety of challenges a person can face with dementia. Below are just some of the examples of these challenges and the design solutions that could help to make their day to day lives easier.
Memory
The person with dementia has difficulty remembering things, so your building cannot rely upon them building up a familiarity with where things are with implications for wayfinding and other aspects. More recent memories are lost first, so if your toilet signs are a variation on the "stick man" that became common in the sixties, it might be meaningless to the person with dementia whose memory stops before then.
Working things out
The person with dementia has difficulty in working things out. They may not understand how to use clinical style taps and mixer faucets in toilets. Unfamiliar plumbing will give rise to delays and confusion that will lead to incontinence and distress.
Learning new things
The person with dementia has difficulty in learning new things. For example, if wayfinding uses a colour code or strips on the ground, you create a range of issues.
Firstly this person cannot easily learn the new colour code. They've forgotten which strip they are following after a few paces.
Secondly, the person may have developed problems with depth perception and other visual processing issues. These issues can make a pattern on the floor appear to be a trip hazard, and this momentary confusion can cause them to stumble and fall.
Adapting to age
The person will have difficulty adapting to the changes that come with ageing.
To make the building safer and easier to use, you should consider sensory and physical impairments. And compensate for well-known problems it will additionally present to the person with dementia.
Stress and fatigue
The person will suffer from crushing stress and fatigue and your building can compensate for that, allowing them to stay independent for as long as possible.
How do I take the first step towards dementia friendly design?
Making the building dementia-friendly needs cost no more than the alternative. Finding out how to do it is easy.
The first step should be to contact the person or people from your board that is trained in dementia-friendly design. A great deal of information and help can also be gained from the University of Stirling directly including:
Information on their website
Free downloadable guides on technology and design and a design audit checklist
A simple ten hints booklet for use by householders to improve their own or their relative's home at little cost
Consultancy advice on projects from the planning stage forward from our own architects, engineers and designers
An online library with two full-time librarians who can answer questions or provide references on dementia design and technology-related issues
Books on specific issues such as the acoustic environment, balconies and roof terraces, and lighting and dementia for sale from the dementia shop
A design audit service which awards bronze, silver and gold certificates to buildings, sections of buildings, or design features such as a lift (elevator compartment)
A regular three-day design school for architects and planners incorporating training in the use of a design audit tool based on research
Degree module distance learning courses lasting one semester delivered and assessed online on design and technology
Designing places with dementia-friendly design principles
The principles and best practices promoted by The Dementia Services Development Centre are true evidence-based designs. Following them can save the health board money and help maintain the dignity of people with dementia.
To produce successful buildings that will support its users, we should ensure that the clients understand the principles of dementia-friendly design and that their design and development teams have in-depth knowledge of the subject.
Ten principles of a caring place
We've put together a report that covers the ten principles of a caring place for the ageing population. Let us explore how town centres can be adapted to support us as we get older and what a caring place could look like.
Learn more